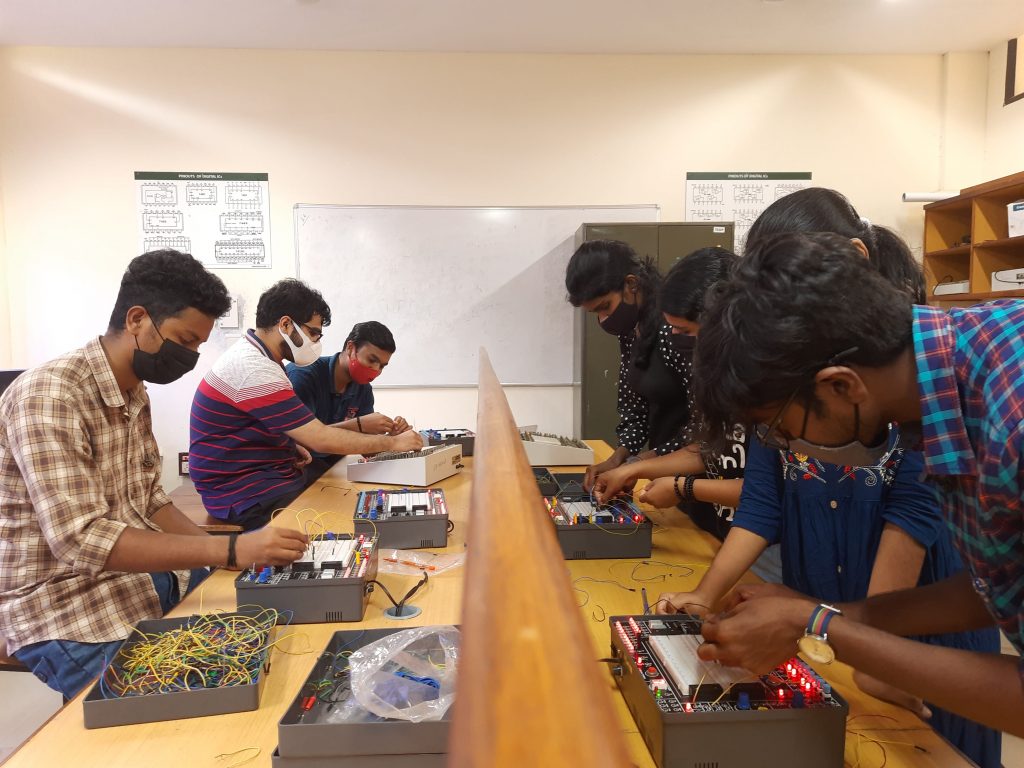 Lab in charge:
Faculty: Prof.Sudhi S
Technical Staff: Mr. Satheesh Kumar S
Details of Labs conducted: 
ECL203 – LOGIC DESIGN LAB

– S3 AEI, S3 ECE
ECL203 – LOGIC DESIGN LAB
This course aims to:
Familiarize students with the Digital Logic Design through the implementation of Logic Circuits using ICs of basic logic gates
Familiarize students with the HDL based Digital Design Flow.
LIST OF EXPERIMENTS:
Part A
The following experiements can be conducted on breadboard or trainer kits.
1. Realization of functions using basic and universal gates (SOP and POS forms).
2. Design and Realization of half /full adder and subtractor using basic gates and universal gates.
3. 4 bit adder/subtractor and BCD adder using 7483.
4. Study of Flip Flops: S-R, D, T, JK and Master Slave JK FF using NAND gates
5. Asynchronous Counter:3 bit up/down counter
6. Asynchronous Counter:Realization of Mod N counter
7. Synchronous Counter: Realization of 4-bit up/down counter.
8. Synchronous Counter: Realization of Mod-N counters.
9. Ring counter and Johnson Counter. (using FF & 7495).
10. Realization of counters using IC's (7490, 7492, 7493)
11. Multiplexers and De-multiplexers using gates and ICs. (74150, 74154)
12. Realization of combinational circuits using MUX & DEMUX.
13. Random Sequence generator using LFSR.
Part B 
1. Realization of Logic Gates and Familiarization of FPGAs
2. Adders in Verilog
3. Mux and Demux in Verilog
4. Flipflops and coutners
5. . Multiplexer and Logic Implementation in FPGA
6. Flip-Flops and their Conversion in FPGA
7. Asynchronous and Synchronous Counters in FPGA
8. Universal Shift Register in FPGA
9. BCD to Seven Segment Decoder in FPGA