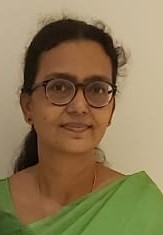 Dr. Susan R. J.
Professor
Qualifications:
B.Tech. in Electronics and Communication Engineering from College of Engineering, Trivandrum
M.Tech. in Applied Electronics and Instrumentation from College of Engineering, Trivandrum
Ph.D. in Digital Communication from University of Kerala.
Professional Experience:
JRF in ER&DC Trivandrum (1991-1992)
Electronics Officer at National Airports Authority, India (1992-1994)
Lecturer in IPT and GPT Shoranur (1995-1997)
Assistant Engineer KSEB (1997-2002)
Joined as faculty in the department of ECE, College of Engineering, Trivandrum in 2002
Worked at RIT Kottayam for 3 years from 2018 before rejoining CET in 2021
Area of Interest : Wireless Communication, Control system, MEMS
Innovations  by  the  Faculty  in  Teaching and Learning:
Development of Synchronous online courses

The faculty and students meet online on favorable digital social media platforms like Gmeet and Zoom. Content is discussed online and assignments are collected through Google classrooms and LMS CET moodle software.