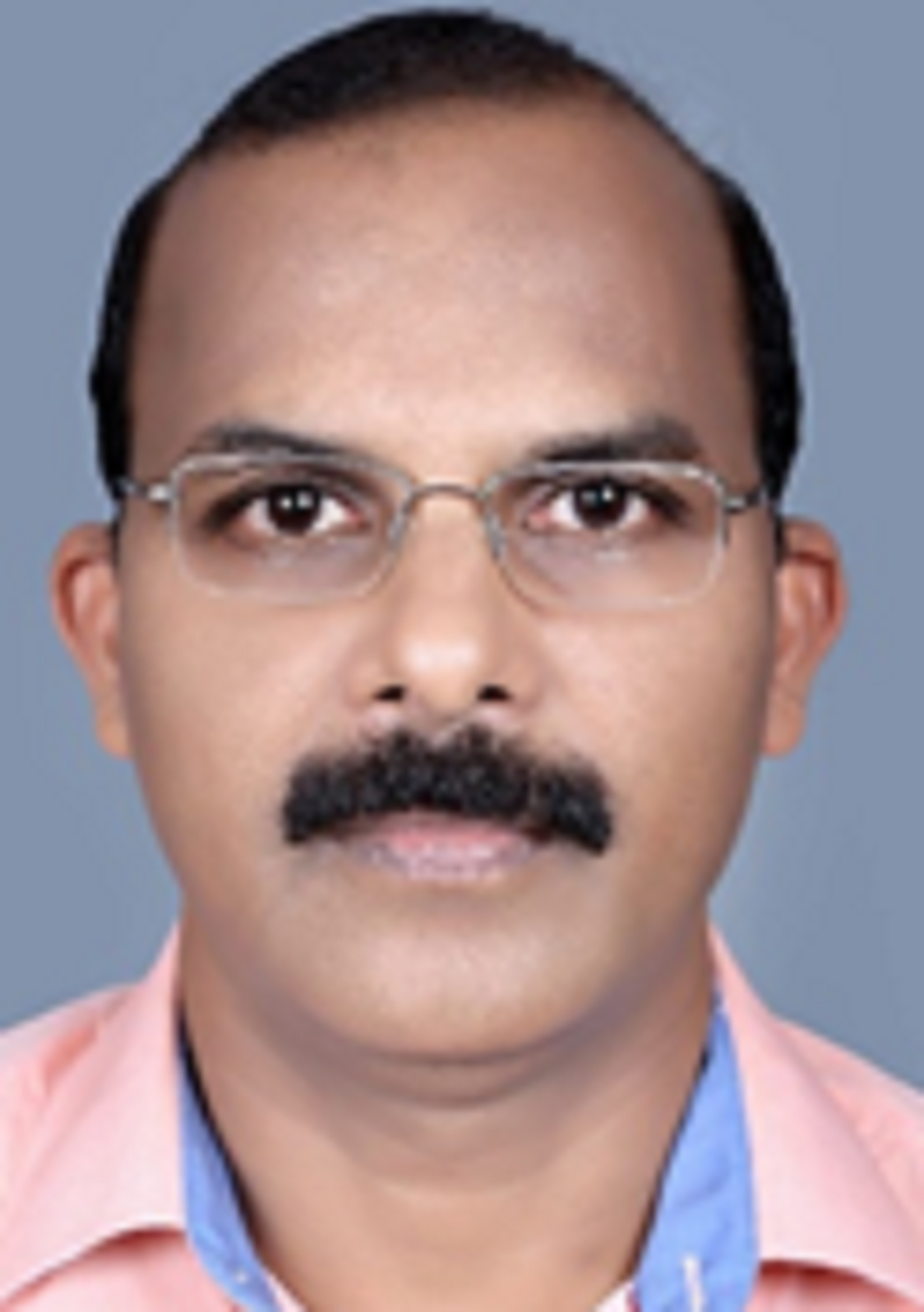 Dr. Suresh Babu V
Professor and Dean Research
GATE Coaching Class, (SSD), CET, ECE 2010-2014
Solid State Devices
VLSI Engineering
Digital Electronics
Signals and Systems
Nanoelectronics
VLSI Circuit Design (UG)
VLSI Circuit Design (PG)
Nanomaterials and Characterization (PG)
CAD for VLSI (PG)
CMOS Circuit Design (PG)
Electronic Devices Lab, Electronic Circuits Lab, Digital Electronics Lab, AIC Lab
Brief Profile:
He started his career as lecturer in Electronics and Communication Engineering at CET in July 1989.
In Feb 1990 he joined Keltron and served there for more than a year.
In June 1991 he started his career in Technical Education as Assistant professor in Electronics and Communication Engineering.
He worked at various positions   in College of Engineering Trivandrum, GCE Kannur, GEC, Idukki, GEC Barton Hill and GEC Wayanad.
He has also served as Controller of Examinations, APJ Abdul Kalam Technological University.
Presently he is officiating as Professor Dean Research.

Qualifications:
B.Tech. in Electronics and Communication Engineering from TKM College of Engineering, University of Kerala
M.Tech. in Integrated Electronic Devices and circuits from IIT Madras
Ph.D. in Design and analysis of CMOS based neurons from College of Engineering, Trivandrum.
Research areas:
Solar Photovoltaics, Nanotechnology
ORCID ID: https://orcid.org/0000-0001-8024-2621
Google Scholar Link:  
https://scholar.google.com/citations?user=McF3RJ4AAAAJ&hl=en
Achievements:
He has written books on Solid state devices and Basic Electronics.

Guided several PG and Ph. D scholars.

Has 14 SCI indexed international journal publications and several scopus indexed and other journals and conference publications.

Received best paper awards for co-authored papers (3 times).
Other responsibilities:
Dean Research, College of Engineering, Trivandrum.

Head, CET Centre for Interdisciplinary Research (CCIR)

Member governing Body, Mar Baselios College of Engineering and Technology, Thiruvananthapuram, (Autonomous)

Member,  Academic Committee of Polytechnic colleges in Kerala

Dean Academics

, Government Engineering College, Wayanadu.

Chairman IQAC, Government Engineering College, Wayanadu.

Member BoG, Government Engineering College, Wayanadu Jan-Sept 2021

.

Member BoG, Government Engineering College, Barton Hill 2019-20.

Member BoG, Government Engineering College, Kozhikod 2019-20.

Member BoG, Cooperative Institute of Technology, Trikkaripur, 2019-20.

Member BoG,  Rajiv Gandhi institute of Technology, Kottayam, 2019-20.

Controller of Examinations

, APJ Abdul Kalam Technological University, Thiruvananthapuram, Kerala,

17-08-2019 to 16-08-2020

Head of Department of Electronics and Communication Engineering, Government Engineering College, Barton Hill

01-06-2016 to 22-03-2019.

Member Academic Council, University of Kerala, Dec 2012 to Dec 2016

Chairman Board of Studies Electronics

, University of Kerala 2008 to 2012

Member workload assessment Committee, directorate of Technical Education, 2016 to 2018

Coordinator,

Technical Education Quality Improvement Programme

(TEQIP),

Government Engineering College , Idukki, Jan 2014 to June 2014

TEQIP Procurement Coordinator and Purchase coordinator, Dept of Electronics and Communication Engineering, College of Engineering, Trivandrum 2005 to 2012

Nodal Officer,  Industry Institute Interaction Cell (IIIC), TEQIP, GEC, Idukki, June 13 to Jan 2014

Convener curriculum committee, APJ Abdul Kalam Technological University, Thiruvananthapuram, Kerala

IEEE Student Branch Counselor

, College of Engineering, Trivandrum,  from July 2014 to May 2016

PG Coordinator, Government Engineering College, Idukki, 2013 to 2014.

Organizing Secretary, National Conference on Communication and Signal processing,  GEC, Idukki, March 2014    

Organizing Secretary, National Conference on Energy Power Electronics and Control, GEC,  Idukki, March 2014

Organizing Secretary, National Conference on Computing and Communication, GEC,  Idukki,  March 2014

Organizing Secretary, National Conference on Information Security and Network Engineering, GEC,  Idukki,  March 2014

Coordinator, Sponsorship Committee, MSO9, AMSE Conference, 2009

Coordinator, Publication Committee,  International Conference on Control Communication and computing, CCC, 2009

Member, Organizing committee, CETEX 2015

Department Coordinator, RUSA, 2014

Member Organizing Committee of ICTT, 2010

Chairman Board of Valuation, University of Kerala, 2013,15,16

Coordinator General Arrangement Committee,  National Conference on Technological trends NCTT, 2013

Technical Programme Committee Co chair ICCC, 2013

Nodal Officer Faculty and Staff Development TEQIP III, GEC, Barton Hill.

Member inspection committee, Kerala University.

Chairman Board of Valuation, KU
Talks Delivered:
Introduction to Outcome based Accreditation, Central Polytechnic, Thiruvananthapuram, August 2021.

Introduction to Accreditation and Outcome Based Education, online  talk for the faculty of Government Engineering College, Wayanad June 2021.
Introduction to OBE, Joint Directors and Principals of Polytechnics in Kerala, organised by SITTTR, March 2021
Introduction to OBE, HoDs and curriculum committee members of Polytechnics in Kerala, organised by SITTTR, March 2021
Advances in Semiconductor Devices, GEC, Idukki, organised as VFS under TEQIP, GEC, Idukki Nov-Dec 2020..
Bipolar Junction Transistors, online Short Term Training Programme at TKM college of Engineering, Kollam, August 2020.
Outcome Based Education, APJ Abdul Kalam Technological University (to curriculum committee members), May 2019.
Outcome Based Education, 3, 5 July 2019, College of Engineering Trivandrum
Outcome Based Education, Department of electronics and Communication, College of Engineering, Trivandrum, 25-07-2018
Advances in Semiconductor Physics, Sree Chithra Thirunal College of Engineering, Pappanamcode, Sep 2017
Physics of Nanoelectronic Devices, Government Engineering College, Barton Hill, April 2014
Fundamentals of Solid State Devices, College of Engineering, Trivandrum, March 2014
VLSI Scaling Issues, Saintgits, Pala, Jan 2014
Introduction to VLSI, LBSIT for Women, Poojappura, September 2013
VLSI to Nanoelectronics, National Conference at SJC, Palai, 2012
MOSFET Theory, Government Engineering College, Barton Hill, Oct, 2012
Nanoelectronic Devices, STC on Nanoelectronics, ECE Dept, CET, Jan 2012
Single Electron Transistor, STC on Nanotechnology, Marian Engineering College, TVM, Dec 2011
CMOS Circuit Design, SHM, Kadackal, Sept 2011
Basics of Semiconductor Devices, LBT, Thiruvananthapuram, Oct 2009
Scaling in CMOS VLSI, Government Engineering College, Barton Hill, April 2009