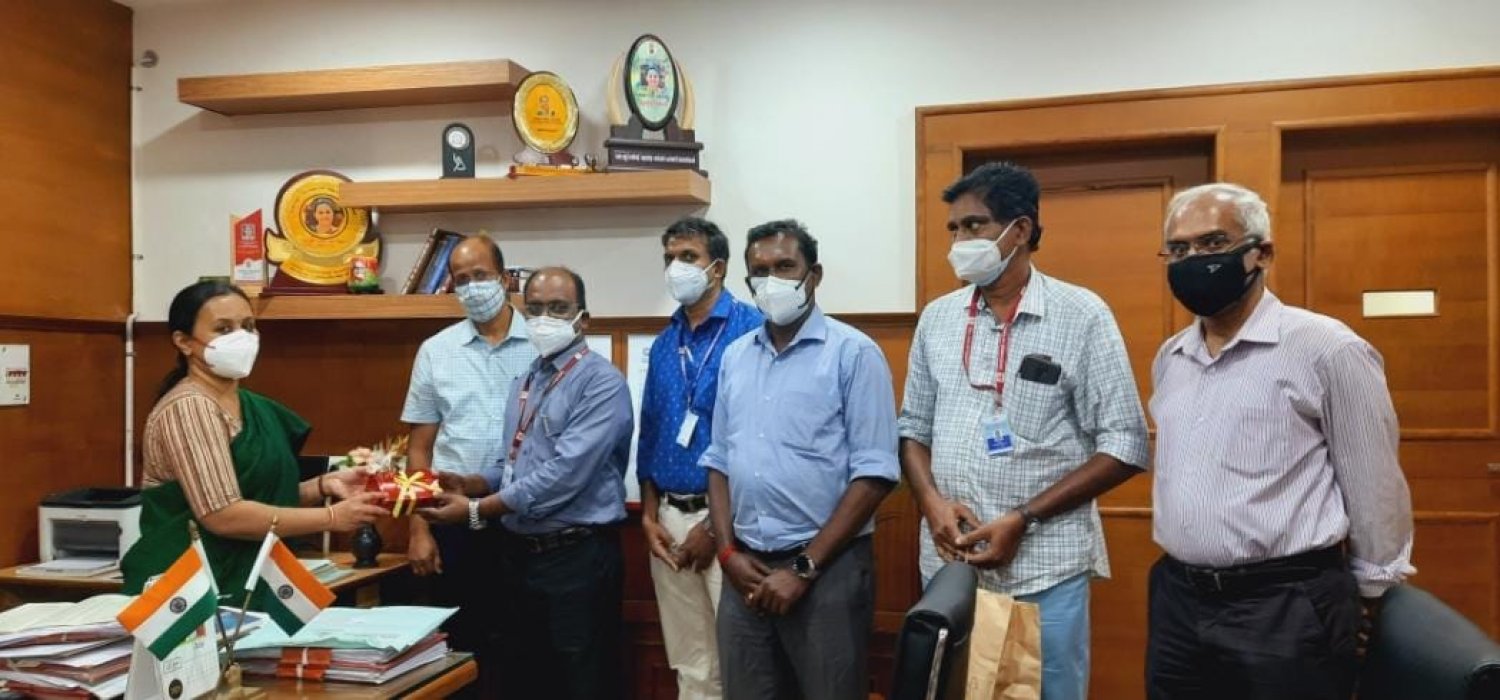 In the midst of covid pandemic second wave, Kerala was experiencing acute shortage of pulse oximeters. On May 6, 2021 the College of Engineering Trivandrum received the request from the Regional Cancer Center Trivandrum for developing pulse oximeters on a war footing.
The College assembled a dedicated team of faculty members and Alumni for realising the above tasks on a war footing. The team developed a working prototype of the Pulse Oximeter (version 1.2) on May 10. The prototype was assembled using available off the shelf electronic components, the device enclosure was custom designed and 3D printed in the CAD lab of the College. The Pulse Oximeter 1.2 operation was tested and approved for use by the Sree Chitra Tirunal Institute for Medical Sciences & Technology, Trivandrum.
After receiving feedback from the Medical community and Government authorities, the efforts to develop an improved version of the pulse oximeter (version 2.0) was set in motion. A custom printed circuit board was designed and fabricated for this purpose. Electronic components were procured with the assistance of Government machinery from triple lockdown imposed Kochi and transported to Trivandrum. The Alumni extended financial support via CETAA to produce 100 units of the Pulse Oximeter 2.0 and supply them free of cost to covid care facilities. The production ready Pulse Oximeter 2.0 was announced on May 22, 2021. The component assembly and testing of the pulse oximeters was done in the Electronics Workshop of the department. The pulse oximeters made by the college has been named as CET-Oxymonitor. 
On August 3, 100 CET-Oxymonitors were handed over to the Hon. Health Minister    Smt. Veena George by the Principal Dr.Jiji C.V. The devices would be deployed in Government General Hospital, Trivandrum and other health care facilities. 
Several members of our strong alumni community actively participated in the development process of CET-Oxymonitor- Mr. Mohammed Rabin (2015 AEI), Mr. Aaron Xavier (2019 EEE), Mr. Ganesh S. (2019 ME), Mr. Sashwat K. (2020 MCA), Mr. Akhil A.B. (2020 AEI), Mr. Adarsh S. (2020 ECE), Mr. Gibcen K.Baby (2018 EEE) and Mr. Rohil Nair (2021 AR).
The alumni worked in sync with team led by the Dr.Jiji C.V. (Principal) and                  Prof. Jayakrishnaraj G. (HoD, Electronics & Communication Engg.). Other faculty members of the development team are Dr.Santhoshkumar S. (Dean Research), Dr.Biji Jacob (Professor, ECE), Dr.James T.G.(Professor, ECE), Dr.Binu L.S. (Associate Professor, ECE), Prof.Ajith R.R. (Associate Professor, ME), Prof.Joaquim Ignatious Monteiro (Assistant Professor, ECE),  Prof. Lalu V. (Assistant Professor, ECE), Dr.Vikas V.K. (Assistant Professor, ME), Prof.Shafeek M.(Assistant Professor, ME) and Mr.Joy P.(Workshop Instructor, ECE).
Once again the College of Engineering Trivandrum community could respond fast to be at the service of society at the time of need.