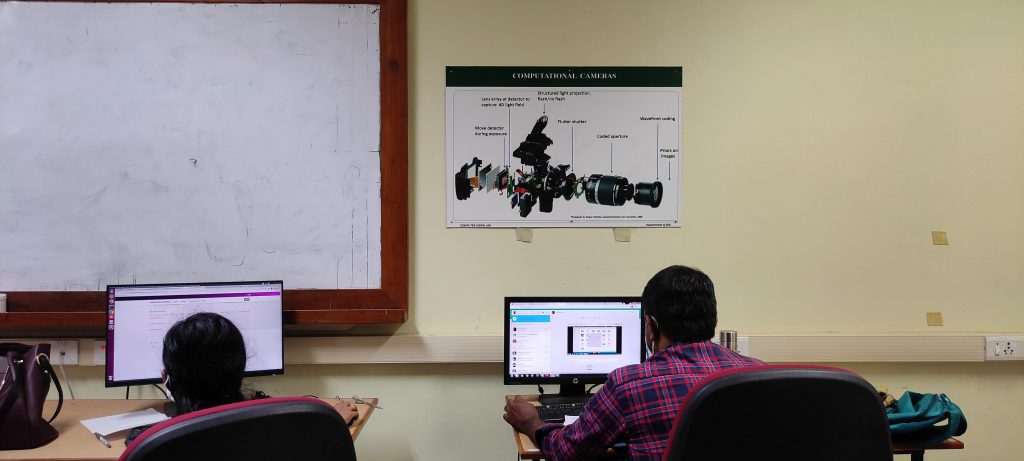 Lab in charge:
Description:
Computer vision is the science and technology of machines that can see. As a scientific discipline, computer vision is concerned with the theory behind artificial systems that extract information from images. The image data can take many forms, such as video sequences, views from multiple cameras, or multi-dimensional data from a medical scanner. As a technological discipline, computer vision seeks to apply its theories and models to the construction of computer vision systems. Various reseach areas includes: Applications in Display Technology, Computer Vision for Navigation, Metrology, High Level Video Analysis, and Human Computer Interfaces. Pharmaceutical biomathematical modeling, Signal and System theory.
Research Areas:
Image Denoising
Image Segmentation
Image Classification
Image and Video Dehazing
Biomedical Image Processing
Smartphone camera image enhancement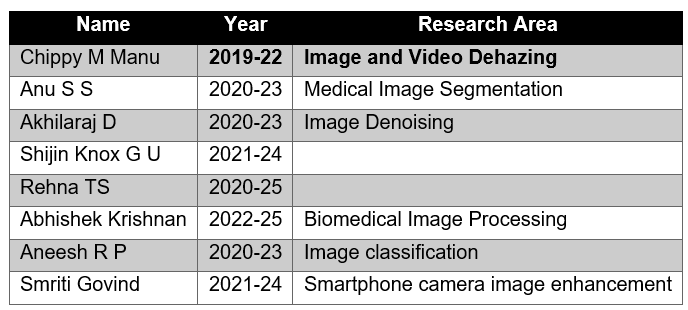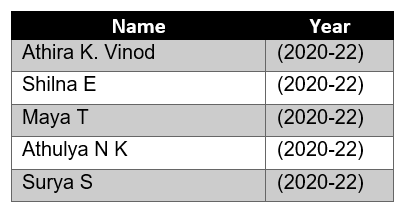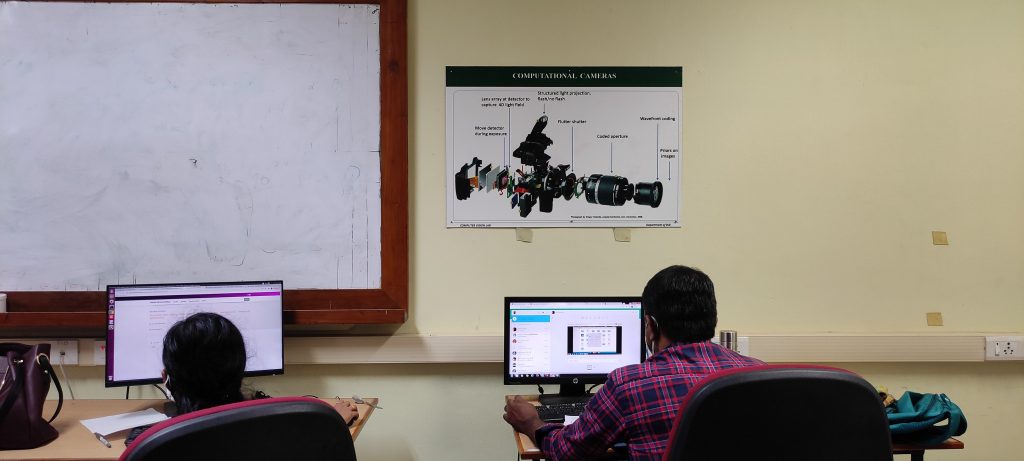 Publications:
1. Chippy M Manu and Sreeni K G, "Msdnet: A novel multi-stage progressive image dehazing network," in Proceedings of the Twelfth Indian Conference on Computer Vision, Graphics and Image Processing, New York, NY, USA, 2021, ICVGIP '21, Association for Computing Machinery."

2. Chippy M Manu and Sreeni K G, "GANID: A Novel Generative Adversarial Network for Image Dehazing"" Visual computer springer journal,2022.

3. Codruta O. Ancuti, Cosmin Ancuti, Florin-Alexandru Vasluianu, Radu Timofte, Minghan Fu, Huan Liu, Yankun Yu, Jun Chen, Keyan Wang, Jerome Chang, Xiyao Wang, Jing Liu, Yi Xu, Xinjian Zhang, Minyi Zhao, Shuigeng Zhou, Tianyi Chen, Jiahui Fu, Wentao Jiang, Chen Gao, Si Liu, Yudong Wang, Jichang Guo, Chongyi Li, Qixin Yan, Sida Zheng, Syed Waqas Zamir, Aditya Arora, Akshay Dudhane, Salman Khan, Munawar Hayat, Fahad Shahbaz Khan, Ling Shao, Haichuan Zhang, Tiantong Guo, Vishal Monga, Wen-jin Yang, Jin Lin, Xiaotong Luo, Guowen Huang, Shuxin Chen, Yanyun Qu, Kele Xu, Lehan Yang, Pengliang Sun, Xuetong Niu, Junjun Zheng, Xiaotong Ruan, Yunfeng Wang, Jiang Yang, Zhipeng Luo, Sai Wang, Zhenyu Xu, Xiaochun
Cao, Jun Luo, Zhuoran Zheng, Wenqi Ren, Tao Wang, Yiqun Chen, Cong Leng, Chenghua Li, Jian Cheng, Chang- Sung Sung, Jun-Cheng Chen, Eunsung Jo, Jae-Young Sim, Geethu M M, Akhil K A, Sreeni K G, Jeena R S, Joseph Zacharias, Chippy M Manu, Zexi Huang, Baofeng Zhang, Yi-wen Zhang, Jindong Li, Mianjie Chen, Quan Xiao, Qingchao Su, Lihua Han, Yanting Huang, Kalpesh Prajapati, Vishal Chudasama, Heena Patel, Anjali Sarvaiya, Kishor Upla, Kiran Raja, Raghavendra Ramachandra, Christoph Busch, Hongyuan Jing, Zilong Huang, Yiran Fu, Haoqiang Wu, Quanxing Zha, Zhiwei Zhu, and Hejun Lv. Ntire 2021 non-homogeneous dehazing challenge report. In 2021 IEEE/CVF Conference on Computer Vision and Pattern Recognition Workshops (CVPRW), pages 627–646, 2021.

4. Ashok L R and Sreeni K G, "Abnormality Detection and Classification of Macular Diseases from Optical Coherence Tomography Images: Using Feature Space Comparison," in Proceedings of the Twelfth Indian Conference on Computer Vision, Graphics and Image Processing, New
York, NY, USA, 2021, ICVGIP '21, Association for Computing Machinery."
"5. Latha V and Sreeni K G, " Deep Feature Fusion for Automated Retinal Disease Detection Using OCT Images," in Proceedings of the Twelfth Indian Conference on Computer Vision, Graphics and Image Processing, New
York, NY, USA, 2021, ICVGIP '21, Association for Computing Machinery."