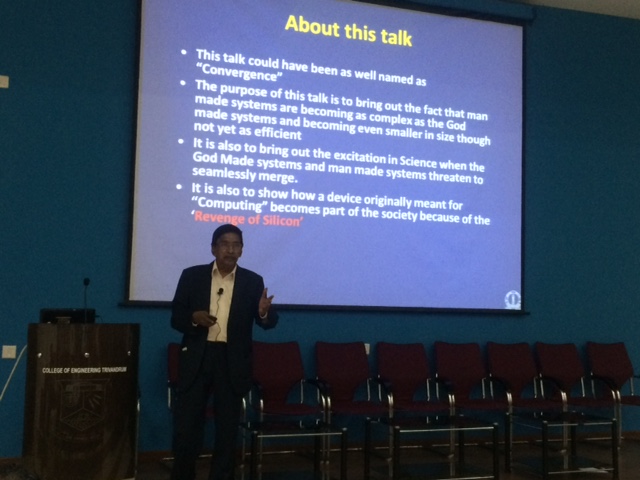 As part of the Golden Jubilee Lecture Series program held in connection with the golden jubilee celebrations of the Dept.  of Electronics and Communication engineering, the department organized an interactive session with Prof Balakrishnan, IISc Banglore. 
Prof  N Balakrishnan, fondly known as Balki, is a Padmasree awardee and scientist at one of the top research institutes in the world. Prof. Balakrishnan is currently a Professor at the Department of Aerospace Engineering at IISc, Bangalore. He was responsible for the creation of the Centre for Microprocessor Applications, the National Centre for Science Information, and the Supercomputer Education & Research Centre at the Indian Institute of Science. He is presently the Chairman of the Division of Information Sciences & Services.  Apart from the Padmashree, many awards have been conferred on him such as the Millennium Medal 2000 and the J.C Bose Memorial Award. He was a visiting Professor at the Carnegie Mellon University in 2001 and in 2002. He is a fellow of the Indian Academy of Sciences, Indian National Academy of Engineering, Indian National Science Academy, Institution of Electronics & Telecommunication Engineers and the National Academy of Sciences.
The session was held in the CETAA Hall on 13th Oct, 2015 at 2:30pm. The formal welcome was given by Dr. Jiji C. V, HOD of ECE department. The session was attended by M. Tech. students of ECE department along with the teaching faculty.
The talk was on the topic The Revenge of Silicon.
In his talk he gave a different perspective to the silicon world. He opened up the world of similarity between the man-made systems and the God made systems and how the silicon world takes its revenge on the carbon world by becoming smaller and more complex in nature. He pointed out how the God made systems and man-made systems seamlessly merge. He highlighted the theory of the survival of the fittest and the Darwin's theory of evolution, which were applicable to biological sciences, and can now be applied to computer sciences as well. He pointed out that our world is no longer a socio-economic world but a socio-technical one. The next era characterizes the NBIC convergence ie Nano Bio Info Congo convergence. 
The talk gave a completely different dimension of thinking and approach to the modern technological world.
The session was concluded at 3.30pm by a vote of thanks.
.