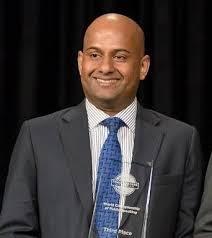 Mr Manoj Vasudevan wins the Toastmasters International Championship of public speaking 2017 held in Canada.
 He is the first Malayalee to win the World Championship of Public Speaking, which is regarded the 'Olympics of Oratory'.
 Manoj had completed  B.Tech. in Electronics and Communication at the College of Engineering, Thiruvananthapuram,  in 1995.
Another achiever from CET. Congratulations Mr Manoj.
More details: https://in.linkedin.com/in/manojthecoach