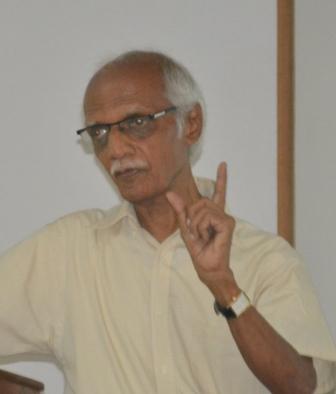 The Seventh lecture in the Golden Jubilee Lecture series 
was delivered by  Prof. Dr. M. Hari Sankar,   former HOD (ECE Dept,CET) and former PG Dean CET.  
About  Prof. Mangalathu Hari Sankar
B.E and M.E in Electrical Communication Engineering,  from IISc, Bangalore
Ph.D. from Carleton University Canada in Communication Engineering under Commonwealth Scholarship Scheme.
FIETE
Joined ECE dept. at CET 1965 (to teach first batch) and became a professor in 1976.
Retired as Dean PG 1997.
Refused further promotions
Adjunct professor at the Kerala University Kariyavattom Campus  (Computer Science Department), REC Calicut (Computer Science Department) and IIMK (Information Systems-15 years)
Guided many M.Tech. and Ph.D. students and published papers with them.
Worked as Consultant to Keltron, Hindustan Latex, C-DIT, and North Malabar Gramin Bank.
Co-ordinated several National Seminars with IETE, Informatics Conference with our department,  and a Neuro-Fuzzy System Conference with the Computer Science dept. of Kerala University.
Worked with the DPCs of Keltron, ER&DC, ISRO, IIMK and several Educational Institutions
Currently, having a retired life at Manjeri, Malappuram District.
He is blessed with two sons, (Ajith & Jayant), who are currently in US,  are Alumnae of ECE, CET.
"There is a purpose for everyone you meet: Some people come into your life to test you; some to teach you;  some to use you; and some to bring out the very best in you." –LORD BUDDHA.