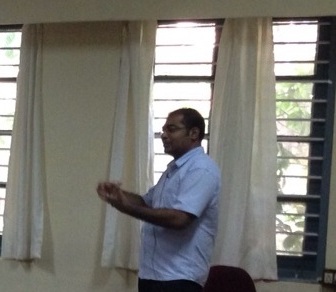 The department of Electronics and Communication Engineering of CET organized an interactive session with Dr. Alex Pappachan James, Professor, School of Engineering, Nazarbayev University, Kazakhstan. Dr. Alex completed his Masters Degree in 2005 from CET and his PhD from Griffith School of Engineering, Griffith University. His area of research includes machine learning, artificial intelligence and memristors.
Visit http://seng.nu.edu.kz/seng/about_us/Faculty/Academic_Staff/AlexPappachen…
The session was held on 1st July, 2015 and was attended by MTech students along with the teaching faculty of Department of Electronics and Communication, CET.
The session mainly aimed at providing insights into opportunities for PhD and an academic career. Dr. Alex gave a different view point to the MTech course by explaining how a Masters degree is different from that of a Bachelors degree. For a Bachelors degree, thinking is confined to a specific discipline whereas a Masters degree requires thinking across disciplines
leading to a collaborated approach. Generation of innovative design, application and understanding the limitations of various mathematical approaches and software tools are crucial in a Masters course. He outlined various PhD opportunities in countries such as UK, USA, Italy, Germany, France and Japan. The fee structure, scholarship and details about the courses and universities were made clear. It was more of an interactive session which made queries of what is beyond M Tech. clear. He inspired and sparked curiosity in finding out new opportunities for study and makes it passion.