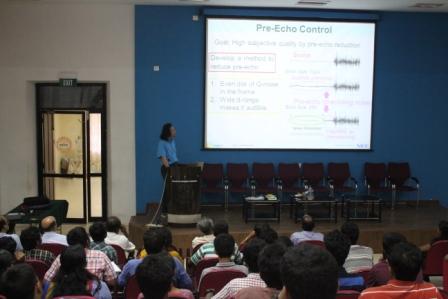 As part of golden jubilee celebration of ECE department of CET, second lecture of golden jubilee lecture series was conducted on 10 December 2015, Thursday 2.30 Pm. The lecture was on topic '25 years of Audio Coding' by Akihiko k Sugiyama, Fellow IEEE,NEC Information and Media Processing Labs,Tokyo,Japan. The lecture series was conducted in association with IEEE Signal Processing Society, Kerala chapter.
Akihiko k Sugiyama, currently research fellow at NEC Corporation and he was visiting Scientist in Concordia University. For more information: https://www.linkedin.com/in/akihiko-ken-sugiyama-37a1185
Dr.  K C Raveendranathan, Principal, LBT Eng. College,  Poojappura gave a warm welcome to the speaker  Akihiko k Sugiyama. The function was blessed with presence of  Dr. M Sasikumar- former  Professor  and Principal CET;  Prof.Jayashankar- Ex. Principal, GECBH and  professor of  CET; Dr S Shabu- Controller of examinations, KTU;  Dr.  Jiji C V, HoD of ECE department, CET.
Akihiko k Sugiyama gave a wonderful lecture on '25 years of Audio Coding'. He explained various concepts and standards in Audio Coding with practical demonstrations. Practical demonstrations helped students to understand the concepts in detail.  Brief history of audio coding in 25 years was also explained detail. Finally he showed the devices which were explained in detail in the lecture for students.
There was an interactive session for students and staff which led to engaging discussions opening vistas to innovative ideas as well. The talk concluded at 4.30 and the session turned out to be an inspiring one for all.